Overview
The Warwickshire Health and Wellbeing Board is committed to helping people be as well as possible. The Board (comprised of public and voluntary sector representatives from health and care, councils, the NHS and wider partners) helps to ensure people have access to information and services to enable them to make positive choices about their health. The Health and Wellbeing Strategy sets out the Board's ambitions and approach to make sure support is effective and available where it is most needed.  
We have drafted our Health and Wellbeing Strategy for 2020-2025, using findings from our Joint Strategic Needs Assessment (JSNA) and our recent Covid-19 recovery survey and health impact assessment (HIA). Our next step to shape the strategy further is to find out more about what you think of our proposals.
Please read the information below and click on the survey link at the bottom of this page. 
If you would like to complete an easy read version of this survey please click on this link: Draft Health and Wellbeing Strategy Easy Read Survey.
Why your views matter
This consultation is a chance for people to have a say about the draft strategy, its ambitions and priorities and our proposed ways of working. By completing the survey, people can let the Board know if we are focussing on the right aspects. People can also inform the Board about how and where messages should be delivered to best reach all Warwickshire communities.  
Overall health in Warwickshire is good compared with the rest of the country, but there are areas where improvements can be made. The demand for health and care services is increasing with a growing and ageing population. There are avoidable differences in health outcomes, often linked to lifestyle factors such as diet, physical activity and smoking, which affect healthy life expectancy (see figure below). These inequalities in health are under-pinned by factors such as education, employment, housing and a healthy environment.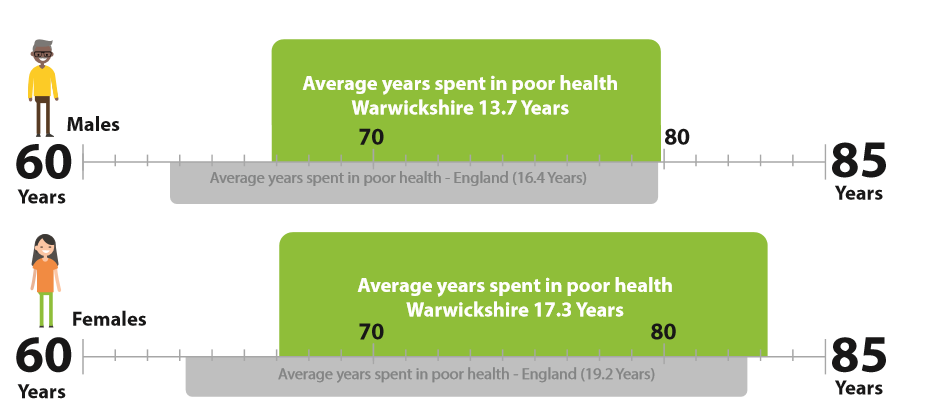 In Warwickshire, on average males spent 13.7 years of their lives in ill health, whilst females spend 17.3 years in ill health.
How to take part
The full consultation document can be downloaded below.
You can share your views in a number of ways:
Complete the survey below. 

If you would like to complete an easy read version of this survey please click on this link: Draft Health and Wellbeing Strategy Easy Read Survey.
Request a paper copy of the survey by telephone

(

01926 413087

)

or email  (phadmin@warwickshire.gov.uk) 

and return it to the postal address below. You can also request an alternative format or language this way.

Feed back to us directly by 

emailing us at  

phadmin@warwickshire.gov.uk or w

riting to us at:
                      Health and Wellbeing Strategy
                      Public Health Warwickshire, People Directorate
                      Warwickshire County Council
                      Saltisford Office Park, Ansell Way, Warwick  CV34 4UL